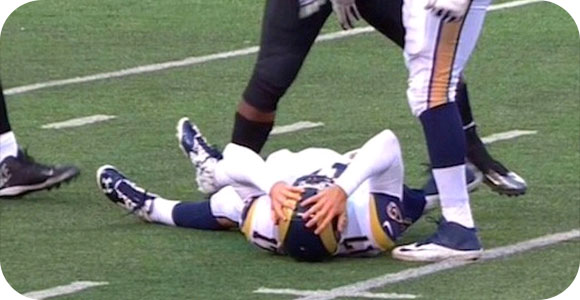 The football games on Sunday brought out more discrepancies with the officiating, as one grave mistake had St. Louis Rams quarterback Case Keenum playing with a concussion; a very dangerous thing to do in a high impact sport. It was late in the game as the Rams played against the Baltimore Ravens, when Keenum was tackled, as he was spun around and his head slammed against the ground with a lot of force.
Right after hitting the ground, he immediately grabbed his head, a clear sign that something was wrong. What happened after simply went on to prove that Keenum was not well, as he was unable to stand up, obviously dazed, and even struggled as he got on all fours. He was finally able to stand up, slowly. The important detail to see here is that the game was never stopped. The officials were deciding what penalty to give, while Keenum remained in the game for another two plays.
It was later on that news media learned that he had indeed suffered a concussion, which puts the spot light on the team and league officials that did not see the clear signs of someone injured. NFL writer Sean Wagner-McGough had some insight on the matter,
"Why wasn't the game stopped? Why didn't Keenum come out of the game? Even if the Rams official spoke with Keenum and thought that he was fine, why didn't an NFL concussion spotter stop the game so Keenum could be examined off the field? Could a concussion test really be administered in 30 seconds? Did the Rams even give Keenum a concussion test?"
On top of this, even the NFL commissioner Roger Goodell is voicing his disapproval over the inconsistencies with the officials and their penalty calls. This will certainly not help their image as being a violent sport, as well as their poor response towards head trauma. Hopefully Keenum will make a full recovery, as football is nothing without its players.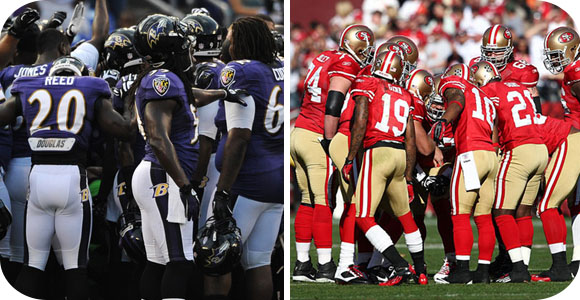 As the NFL Week 5 football games are approaching, there are several teams that would benefit from a few changes to their roster or strategy, as they have been having a horrible season so far. Look at which of the AFC and NFC teams need a boost that could mean the different between a losing and winning record.
Baltimore Ravens (1-3)
Area needing a fix: the Ravens are in desperate need of a good cornerback and wideout, as they have been suffering with the secondary.
Cleveland Browns (1-3)
Area needing a fix: They should start Johnny Manziel, and give defense coordinator Jim O'Neil some help by head coach Mike Pettine, who should be more involved with the talent.
Jacksonville Jaguars (1-3)
Area needing a fix: Start focusing on improving the secondary, as the Jaguars offense is getting its legs back with QB Blake Bortles, returning TE Julius Thomas, WR Allen Robinson, and rookie RB T.J. Yeldon. So their defense, who is ranked 26th should be their main focus.
Houston Texans (1-3)
Area needing a fix: Switch Ryan Mallet and Brian Hoyer each drive to see if that works, or try J.J. Watt in a different spot. Mixing it up may give the Texans a shot at winning a game on purpose.
Kansas City Chiefs (1-3)
Area needing a fix: Give QB Chase Daniel a shot at starting. Their current starter, Alex Smith, may have impressive throwing stats, but has been unable to score a touchdown. Perhaps Daniel will prove to be a better scorer.
Miami Dolphins (1-3)
Area needing a fix: With interim coach Dan Campbell and his new training techniques, it may be good time for the Dolphins to find a a suitable head coach, and this time, pick the right man for the job.
San Francisco 49ers (1-3)
Area needing a fix: Test their young players and see where they could go. With the 49ers having a relatively young team of players, they could see where they major strengths are at without being limited to former identities.
Philadelphia Eagles (1-3)
Area needing a fix: Play Darren Sproles more often! He is second on the team in terms of yards per carry, receptions, and average yards, yet he hasn't been given much playing time. They should use this asset to the best of his abilities and start getting the ball safely down the field.
Detroit Lions (0-4)
Area needing a fix: Matt Stafford needs more balls, figuratively and literally. He has four amazing wide receivers and running back including, Calvin Johnson, Golden Tate, and Ameer Abdullah, they should be taking more chances on the throw.
Chicago Bears (1-3)
Area needing a fix: Pick another quarterback now, rather than wait and see in the next Draft. There are plenty of experienced QB's out there, like Geno Smith, Ryan Nassib, or EJ Manuel, and put them to work on the offense. If they are worried about Jay Cutler, they shouldn't be, a quarterback that doesn't perform should be on the bench.
Tampa Bay Buccaneers (1-3)
Area needing a fix: Start Jameis Winston slower. The rookie quarterback has been throwing like crazy, with 30 to 35 attempts each game, which is what has led to his 7 interceptions. The Bucs should take it slower with him as he gains experience and he will surely repay them in the next season.
New Orleans Saints (1-3)
Area needing a fix: Think about the long run. With their star QB, Drew Brees reaching 37, they need to start looking at what lies ahead. They may need to completely overhaul the team and start looking to change its strategy, as it may no longer revolve around Brees and Sean Payton.
With these changes, we may see a different NFL team this season or the next, but we will have to wait and see if any of them actually do something to help them improve. The football season is only just begun, with 12 weeks to go until the playoffs, so it is still early to tell.
A parlay is a single bet that is placed on two or more different games. As a general rule, all games in the parlay must be winners (or at least end in a tie) for the parlay bet to win. The odds on a parlay are based on how many different teams you play. A 3 team fixed odds parlay might pay 6 to 1 while a 12 team fixed odds parlay could pay 600 to 1. Take a look at the following example of fixed odds parlay payouts from one of the leading online sportsbooks;
| | |
| --- | --- |
| Parlay size: | Fixed odds: |
| 2-team | 2.6/1 |
| 3-team | 6/1 |
| 4-team | 12/1 |
| 5-team | 25/1 |
| 6-team | 35/1 |
| 7-team | 75/1 |
| 8-team | 100/1 |
| 9-team | 150/1 |
| 10-team | 300/1 |
| 11-team | 450/1 |
| 12-team | 600/1 |
The first thing that you need to know when looking at parlay odds is whether the betting line for each individual game in the parlay contains standard odds or not. As we have discussed before in the article titled "How do Sportsbooks Make Money on the Moneyline", the standard odds for sports betting are (-110), meaning that you must wager $110 for the chance to win $100.
If, and only if each and every team in your parlay has a betting line containing standard odds, then the fixed odds table shown above will apply. In that case it is simply a matter of looking at the table to determine the payout based on the number of teams you bet on with your parlay and the amount of your bet. If you placed a $100 bet on an 8 team parlay and won, you would get a payout of $10,000 in addition to having your original $100 bet returned to you.
Bet the NFL Season With Bodog Sportsbook
You could assume that there is no real calculation required to determine the parlay odds since the odds are set by the sportsbook based on the number of teams in the parlay, but in fact the calculation does exist. It's just a very simple one. A $100 payout is 91% of a $110 wager, and the return of your original wager represents a 100% return on that wager. The total then is 191% or 1.91 as a multiplier. To get your payout for a 2 team parlay simply multiply $110 by 1.91 squared. For a 3 team parlay it's $110 times 1.91 cubed. For a 5 team parlay it's $110 times 1.91 to the fifth power. And so on.
But if the betting line on one or more games in the parlay is anything other than the standard odds, a slightly more complex calculation must be performed to determine the final parlay payout. Once again, we will mention that these odds are almost always calculated by the sportsbook when you place your bet, and a calculation on your part is therefore not really necessary. The purpose of explaining how to calculate the payouts on these non-standard odds is to give you a more in-depth understanding of what's behind the sportsbooks calculations. Take a look at the following 3 team parlay example where the betting lines for the 3 teams respectively are (-160), (+130) and (+110);
| | |
| --- | --- |
| Moneyline: | Multiplier: |
| -160 | 1.625 |
| +130 | 2.3 |
| +110 | 2.1 |
Just like the fixed odds, for every moneyline there is a multiplier which describes how much money you will receive as a payout if your bet wins. The payout for a bet on (-160) is $100 for every $160 that you wager. The $100 winnings is 62.5% of the $160 that you risked. Additionally your original $160 bet is returned to you, and $160 is 100% of the money you risked. Therefore the total payout including the return of your original bet is 162.5% of your original bet. We divide that by 100 to get the multiplier, which in this case would be 1.625. Now when the betting line is positive such as (+130), your winnings are more than 100% of the amount you risked, 130% in fact. Adding the original bet which again is 100% of your original bet because it is your original bet gives you 230% payout or a 2.3 multiplier.
Bet the NFL Season With Bodog Sportsbook
Finally, you can now calculate your payout from the multipliers you have created. The payout would be the original wager multiplied by all of the multipliers in the parlay. Assume for a moment that in the above example you wagered $100. Your payout would be $100 x 1.625 x 2.3 x 2.1 or $784.88, and $684.88 would be winnings while $100 of that would be your original wager. You can easily see from this illustration that when the betting lines are positive the payout more than doubles for each team you add to the parlay.
It's been correctly pointed out by various authors that the actual chances of hitting a multi team parlay are a lot lower than the fixed odds would suggest. The real odds of hitting a 5 team parlay for example are more like 31 to 1 while the payout for fixed odds is only 25 to 1. It's good to understand this relationship between true odds and the fixed odds payouts you would receive from a sportsbook, but it's not really that relevant.
The fact is that by picking underdogs you can increase the payoff for multi team parlays well above that which you would get for fixed odds. And even if you do decide to go with the standard odds, parlays can still yield a huge payout for relatively little investment. Hitting a 4 team parlay with a $100 bet doesn't get you the $1500 payout that you would get if the sportsbook offered true odds in their fixed odds table, but $1200 is still a pretty darn good payoff for that $100 bet.
Bet the NFL Season With Bodog Sportsbook
The moneyline does not offer sportsbooks the same opportunity to make a profit as the point spread. In a standard favorite/underdog scenario, the sportsbook will make money only when the favorite loses. That's because the difference between the odds on the favorite and the odds on the underdog are normally at least 10 points. For example, the favorite might have moneyline odds of (-130). The underdog facing them would have moneyline odds of (+120). The only exception to this would be the unusual circumstance where neither team was the favorite and the point spread was thus zero. The moneyline would probably be (-110) for both teams in that case.
Bet the NFL Season With Bodog Sportsbook
In the example above, a loss by the favorite would give the sportsbook $130 from a bettor who was wagering on the favorite. They would need to make a payout of $100 to a $120 wager on the underdog, and the result is a $10 profit. If the favorite wins however, they would owe the winner $100 on a $130 wager, and would collect $100 from the loser who was hoping to win $120. The sportsbook makes no money in that event.
In the article How Sportsbooks Make Money on a Point Spread we discussed the need for sportsbooks to get the right amount of money wagered on both teams. Usually they are able to, but sometimes the sportsbooks are not successful in their attempts to do this. One memorable example of that is the stunning defeat handed to the New England Patriots by the New York Giants in Super Bowl 42. The Las Vegas sportsbooks are said to have lost $2.6 million that day, the first time in more than ten years that the betting houses lost money on the Super Bowl.
The simple reason for the sportsbooks losing money from a Giants victory was the high volume of bets placed on the Giants. The Patriots were a huge favorite to win the championship that day. They were 18-0 coming into the game and were considered by many to be the best team in the 40 year history of the NFL. But Vegas grossly underestimated the public desire to bet on the underdog. Bettors placed wagers on the Giants in numbers far in excess of what the sportsbooks had expected.
The bad news for the sportsbooks was not the volume of bets on the Giants, but the fact that a similar amount of money was not being wagered on the Patriots. In order to encourage more bets on the Patriots, the point spread for New England dropped more than 2 points during the week before the Super Bowl. The point spread had started out at 14 and then dropped as far down as 11½ points. But it seems that it hadn't dropped far enough The fans apparently didn't think that New England would win by such a wide margin and they bet on the Giants +11½ points instead.
Bet the NFL Season With Bodog Sportsbook
The moneyline however is where the sportsbooks really took the biggest hit, as again the sportsbooks lacked volume on the Patriots. The moneyline on the Giants which had been as high as (+475) dropped to around (+350). The Patriots meanwhile had a moneyline of about (-425), and speculation abounds that the lack of a decent return kept people from betting for New England on the moneyline. To make a profit on the moneyline, the sportsbooks would have had to collect bets such that the amount of money being risked on the Patriots equaled the amount that would be won in the event of a Patriots defeat.
For example let's say that the moneyline was (+400) on the Giants and (-420) on the Patriots. If one moneyline bet was placed on the Giants for every moneyline bet placed on New England the sportsbooks would have made a profit on that segment. That's because a win by the Giants would have resulted in a $400 payout while the income would have been $420 from the losing bet on the Patriots. Even if the Patriots won however, the sportsbook would only pay $100 to a winning wager while collecting $100 from wagers on the Giants. They would have at least broken even.
But 60 to 70% of the money the public wagered was placed on the underdog Giants. Had the Patriots won the game even by less than the 12 points the sportsbooks would have had to pay off those bettors who bet on the Giants using the point spread odds. But they would still have collected a lot from players who bet on the Giants using the moneyline. With a Giants victory however their betting distribution was completely unbalanced, and the result was a huge loss for the sportsbooks.
If the mere mention of keeping sportsbetting records conjures up images of a pointy headed geek pushing a pencil amidst mountains of data, you are not alone. Few bettors are capable of keeping from yawning when a discussion about tracking your betting results begins. But it is a given that anyone who bets on sports in a rational manner designed to earn profits regularly must have a method of measuring their success. Tracking the results of your wagers is the only approach that really makes sense.
Bet the NFL Season With Bodog Sportsbook
Keeping track of your bets may be boring, but without doing it you will have no concept of which types of bets are your strongest winners. And without that information, opportunities that could boost your winning percentage will simply pass you by.
You can always find websites out there that give you simulations of sportsbook sites but these can be rather limiting. You may not be able to enter the bet sizes that you usually use and you may not even be able to list the types of bets you are most used to placing. The real value will come only from a system that accurately reflects every single bet you make and there are several important ways that your data must be arranged in order to give you a clear picture of your accomplishments.
The first category to be tracked is the bet type. Straight bets, totals, Over/Under bets, Parlays and Teasers should all be defined in your database so you can sort your bets accordingly. It is critical that you get a handle on whether you are winning or losing at each of these types of wagers. You may find halfway through the season that you are losing on totals and parlays on a regular basis. The obvious fix is to drop those types of wagers from your routine. After that you should probably see improvement in your overall winning percentage using all other types of bets.
Sign up for an Account Now at Bodog Sportsbook
Advice such as eliminating losing betting types is simple common sense but it escapes many sports bettors, some of whom fail to track even basic numbers like wins vs losses. But keeping track only of your wins and losses is just the beginning of good data management. Are you betting way too many underdogs on the road when your success rate on home favorites deserves more action? Or maybe you are winning handily when taking price with low point spreads but you miss the mark when the spread hits double digits. Ideally you should be breaking down your betting results into many more categories to get the full story on the trends in your own wagering history.
Another important area to focus on is your record with particular teams. Most sports bettors have good instincts when it comes to certain teams and may not even be aware of this fact. Tracking your success by team and adjusting your betting to accommodate it is one of the easiest ways to improve your bankroll. And it doesn't matter whether the team of interest actually wins or not. You may find that you are winning at a very high percentage when betting either for or against the Pittsburgh Steelers for example. It's an indication that for some reason you have a good read on how the Steelers will perform on a weekly basis. The right move in that case is naturally to place more wagers on games involving Pittsburgh whether they are favored or not. By the same token, think about reducing the number of bets on games with teams that you have had a difficult time getting a read on according to your tracker.
Sign up for an Account Now at Bodog Sportsbook
In short, you need to pay attention to the trends and warnings showing up in your own betting records in order to improve them. As misleading as statistics can sometimes be, the successes you have had with different betting types, teams and situations are a different story. They are most often the best reference points when looking to analyze your own strengths and weaknesses. Even the minimal amount of effort required to update your tracker each week will ultimately pay off. You may need to track your progress for several weeks before you start to see patterns that are useful. But certainly by midseason you should have a much clearer picture of how you are doing with various moneyline odds for example or with NCAA versus NFL teams. Keep a sharp eye on this valuable data and let it help you earn the best possible return on your sports wagers.
We have already seen in previous articles like How do Sportsbooks Make Money on the Moneyline, that sportsbooks get their profit by taking an equal amount of bets on both teams in any given game. The income from the losing bets offsets the payouts from the winning bets, and the "vigorish" or "juice" is the sportsbooks profit. And we have also seen that (-110) is the standard "vig", although not the only one. Point spreads and moneylines are set carefully with the hope that they will entice bettors to wager on both teams equally. So why would a sportsbook change these carefully calculated numbers after they have been posted for the public to wager on?
Bet the NFL Season With Bodog Sportsbook
The reason is that these betting lines are only the oddsmakers best guess about what kinds of odds will result in the equal distribution of wagers on both sides of an event. And while oddsmakers are very good at making these guesses, nobody can perfectly predict how the public will respond. Let's say that the betting lines come out for an NFL game between the Washington Redskins and the Dallas Cowboys, and the Redskins are +3 in the point spread. Let's say further that for some reason a lot of people believe that the Cowboys will cover the spread easily, and in fact will win the game by 6 or 7 points, and they start betting heavily on Dallas.
Right away this causes an imbalance in the wagering patterns with a lot more money being placed on Dallas than on Washington, and that, as we know is contrary to the outcome that the sportsbooks are trying to achieve. This isn't something that the sportsbooks like, but it certainly doesn't come as any surprise to them. And neither is it any great cause for alarm either. It is simply an indicator that the betting lines need to be adjusted to persuade more bettors to lay money on Washington.
To do this, the sportsbooks will start increasing the point spread from 3 points to 4 or 5 or 6 points or whatever is needed to prompt the public to start betting on the Redskins. These adjustments are made very quickly by the sportsbooks and they will not stop moving the betting line until they get the desired result. Once equilibrium is established and wagers on both teams are as equal as they can be, the betting line stops moving. It will probably remain at that value which resulted in equilibrium unless some event occurs that causes the balance to be upset, in which case another adjustment is made.
When betting on NFL or NCAA football, several things can happen to make this adjustment necessary. A lot of this has to do with the fact that football games are held just once a week. Injuries may occur while players are practicing and this will affect the betting lines that were created earlier in the week. Weather forecasts change as time goes by and this also has an effect. The prospect of a sloppy, rainy day on a muddy field for example encourages betting on the team that can run the ball more effectively since bad weather hinders the crisp routes and split second timing needed for a successful passing attack.
There is at least one other major reason that the line is subject to change for football games and it again has to do with the weekly schedule. The line may change markedly on game day in response to high betting volume by last minute customers. On game day, all the information needed to evaluate a team's chances of winning are in place. Weather predictions are at their most accurate. Injured or questionable players are as healthy as they are going to get and coaches will usually give an indication of whether these players will see action.
Sign up for an Account Now at Bodog Sportsbook
In some cases other football games are taking place (or have already been played) on the same day that affect the importance of other games, especially near the end of the season. A team that has been knocked out of contention for the playoffs by the results of another game earlier in the day is not likely to be as motivated to play as an opponent who is fighting for its post season life and must win to stay in the hunt.
The result of all these elements is that betting on one team may become very heavy in the time period just prior to the game. A sportsbook will make whatever changes are required to the betting line to offset this massive influx of bets by making bets on the opposing club very attractive. They will continue to adjust to the wagering conditions right up until kickoff.
Theoretically anybody can create a betting line. All you have to do is set a point spread, a moneyline and an over/under, and then attach odds to each of those betting types. But in reality the process of creating betting lines on competitive sports in such a way as to make money for the sportsbooks is so unbelievably complex that very few can do it well. As a result, there are really only two sources of betting lines for sporting events.
The US source is a company called Las Vegas Sports Consultants (LVSC), and they have been in business since 1982. A more recent arrival to the field is the offshore sportsbook Costa Rica International Sports (CRIS). CRIS was established in 1985 and over the next several years they grew and began competing with LVSC in the arena of creating betting lines. These two organizations combined provide betting lines for virtually every sportsbook and bookie on the planet.
Bet the NFL Regular Season at Bodog Sportsbook
You may recall in the previous section titled How do Sportsbooks Make Money on the Point Spread that we described the point spread as the number of points that the favorite is expected to win by when playing the underdog. In truth a large part of the betting public may actually believe that the favorite will beat the underdog by the number of points listed in the spread. But to hear this and then conclude that the point spread posted by the oddsmakers is meant to reflect the expected point differential is to completely miss the truth about how and why betting lines are created.
LVSC and CRIS do not set betting lines based on the expected difference in score between two teams. They set the lines so as to create equal amounts of betting on both teams. And as intricate as the creation of betting lines can become, both LVSC and CRIS create their lines using the same basic types of information. Some of the factors that go into the creation of betting lines are home field advantage, injury reports, the history of meetings between the two teams, public preference, and of course the power rankings which are themselves the product of a whole array of statistical data.
Power rankings (also called power ratings) are the cornerstone of the betting line. They are a list of all the teams competing against each other in any given sport, and the teams are ordered on the list according to which has the higher power ranking. The higher a team's power rankings, the closer they are to the top of the list. The assumption is that for any two teams which play each other, the team with the higher ranking is likely to win. In fact, many sports handicappers believe that a comparison of the power rankings between two teams can predict the outcome of a game between those teams much more reliably than the point spread.
Click Here to Bet the NFL Regular Season at Bodog Sportsbook
Power rankings are calculated using a complicated formula combining many stats such as the win/loss percentage of a team's opponents, the team's average scoring margin, and the number of home games and road games on the team's schedule. They are published by many different sources but the most widely accepted rankings come from media providers such as major broadcasters, nationally distributed newspapers and magazines. Every provider has their own specific formula for creating these rankings, and some of these formulas are actually posted for the readers.
But the power rankings are just the beginning of the process. All sorts of other information must be taken into account and processed. Injuries to players can have a dramatic effect on the odds, especially if the injured player is in a key position like quarterback or is otherwise one of the standout players on the team. And regardless of how the two teams match up against each other in reality, the public may bet heavily on one team simply because that team is popular and well liked. In such a case the sportsbooks will need to offer attractive odds on the opponent so as to encourage more people to bet against the popular team.
Betting lines which originate from LVSC and CRIS soon make their way around to the hundreds of online sportsbooks that populate the internet. But just because the major creators of betting lines post certain point spreads or moneylines doesn't mean that every sportsbook has to copy them precisely. Indeed, many individual sportsbooks may use the Vegas and Costa Rica betting lines as a starting point, but the sportsbooks have very competent oddsmakers of their own who can tweak the established lines in an effort to maximize the sportsbooks profits.
When it comes to betting on football, it can be tough to know where to put your money. Sports are one of those things that you don't have to know a whole lot about in order to be able to bet on them. Such is the case with football, and it's mostly because of the existence of sports handicappers online.
Many people who bet on professional football can do so because they have an intimate knowledge of the sport itself. If you know about football, can assess different injuries and their present and future impact, know the strengths and weaknesses of a host of key players on many teams and have some knowledge as to team stats, it may be possible for you to do your own handicapping.
Whether you are doing your own football handicapping or you are paying a professional to take care of your picks for you, there is one thing to keep in mind: nothing is for certain. Betting is about chance, and when it comes to sports everybody loses at least once in a while. While it is important to examine a potential handicapper's track record, understand that there is no such thing as perfect and that bad streaks happen to all handicappers—even good ones.
Putting big money on a football game may not be the best idea without handicapping. Betting is about fun and entertainment, but without doing the right speculation beforehand putting large amounts of money on a whim may result in disaster.