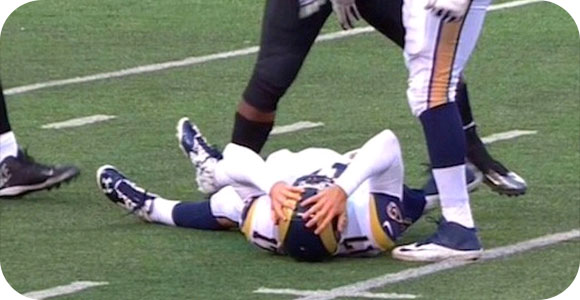 The football games on Sunday brought out more discrepancies with the officiating, as one grave mistake had St. Louis Rams quarterback Case Keenum playing with a concussion; a very dangerous thing to do in a high impact sport. It was late in the game as the Rams played against the Baltimore Ravens, when Keenum was tackled, as he was spun around and his head slammed against the ground with a lot of force.
Right after hitting the ground, he immediately grabbed his head, a clear sign that something was wrong. What happened after simply went on to prove that Keenum was not well, as he was unable to stand up, obviously dazed, and even struggled as he got on all fours. He was finally able to stand up, slowly. The important detail to see here is that the game was never stopped. The officials were deciding what penalty to give, while Keenum remained in the game for another two plays.
It was later on that news media learned that he had indeed suffered a concussion, which puts the spot light on the team and league officials that did not see the clear signs of someone injured. NFL writer Sean Wagner-McGough had some insight on the matter,
"Why wasn't the game stopped? Why didn't Keenum come out of the game? Even if the Rams official spoke with Keenum and thought that he was fine, why didn't an NFL concussion spotter stop the game so Keenum could be examined off the field? Could a concussion test really be administered in 30 seconds? Did the Rams even give Keenum a concussion test?"
On top of this, even the NFL commissioner Roger Goodell is voicing his disapproval over the inconsistencies with the officials and their penalty calls. This will certainly not help their image as being a violent sport, as well as their poor response towards head trauma. Hopefully Keenum will make a full recovery, as football is nothing without its players.