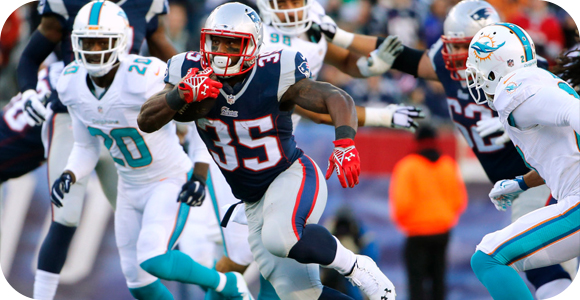 With just a few weeks until the start of the 2015 NFL regular season, fans should be getting ready to line up their best players for their fantasy football team. We are going to take a look at which running backs would be the best to put on your weekly roster, depending on whether you were able to draft any of them or not. It is no good to just pick any running back, but rather those players that have high chances of actually scoring in order to give you points.
This is why we're going to take a look at the top running back for each professional team that has the ability to perform well near the goal-line and to score touchdowns; whether it is using their speed, quickness, or strength to do so. Here is the top pick for each team:
Team
Player
Reason
Cowboys
Joseph Randle
Quickness
Giants
Andre Williams
38 carries inside red-zone
Eagles
Ryan Mathews
Strong for goal-line situations
Washington
Alfred Morris
Good offensive line
Bears
Matt Forte
Big and strong at line
Lions
Joique Bell
Between-the-tackles guy
Packers
Eddie Lacy
20 rushing attempts at goal
Vikings
Matt Asiata
9 touchdowns from 7 yards or closer
Falcons
Devonta Freeman
Best suited for short yardage situations
Panthers
Cam Newton
33 career rushing touchdowns
Saints
Mark Ingram
9 touchdowns in 2014
Buccaneers
Doug Martin
Powerful runner
Cardinals
Andre Ellington
Short yardage go-to player
49ers
Carlos Hyde
Better at closed spaces than Bush
Seahawks
Marshawn Lynch
He's a beast, period
Rams
Benny Cunningham
Most success at goal-line
Bills
LeSean McCoy
Fred Jackson
Both have impressive red zone stats, and either could fill the position
Dolphins
Lamar Miller
Stronger to break tackles
Patriots
LeGarrette Blount
Lead power back
Jets
Chris Ivory
Great yards-after-contact runner
Ravens
Justin Forsett
7 red zone touchdowns in 2014
Bengals
Jeremy Hill
Strengthened lower body
Browns
Isaiah Crowell
Bell-cow back with 8 touchdowns in 2014
Steelers
Le'Veon Bell
Great at running and catching, deadly combo in red zone
Texans
Arian Foster
Wait for his return, as no one else has stepped up
Colts
Frank Gore
49 career touchdowns inside of the 20-yard line
Jaguars
Toby Gerhart
Biggest back and tough inside runner
Titans
David Cobb
Bigger and stronger
Broncos
C.J. Anderson
Likely to get the most carries this season
Chiefs
Jamaal Charles
Good vision and patience for holes to open
Raiders
Latavius Murray
Good burst and push at the line
Chargers
Branden Oliver
Best option for red zone situations
So, when picking one of the two running backs, be sure to include one that is good in the red zone or close to the goal-line, as they will more than likely be put in to push the ball into the end zone. No need to worry, as your fantasy football team will perform quite well if you take these players into consideration when playing.
As the NFL teams start with their training camps, fans will also need to start getting ready to draft all of the best football players they can onto their fantasy teams. We recently provided you with a few names that could get you some good points, and now we will talk about two rookie running backs in particular.
There were a lot of great players that got picked during the 2015 Draft, but not all of them will be playing this upcoming season. So, which are these two rookie RB's that could make a big difference? Melvin Gordon and Tevin Coleman. They each have amazing skills on the field that the coaches of the Chargers and Falcons are sure to use.
As such, we have some predictions of what they could accomplish in the League based on what they did during their time in college, as well as comparing them to other rookies in the past.
Player
2014 College Stats
2015 Prediction
Melvin Gordon

Rush Yards: 2,587

Average: 7.5

Touchdowns: 29

Rush Yards: 1,111

Average: 3.9

Touchdowns: 6

Telvin Coleman

Rush Yards: 2,036

Average: 7.5

Touchdowns: 15

#1: Rush Yards: 1,065

Average: 3.8

Touchdowns: 7

#2: Rush Yards: 874

Average: 3.8

Touchdowns: 6
As you can tell, they had an amazing year in 2014, which could translate really well in the NFL, and could make their rookie year a great one. This is why they would be so valuable on any fantasy football team, as they are top draft picks with enormous talent on teams that really need their skill-set in order to win games.
If you want to check out the entire process of how these predictions were made and what information they were based off of, check it out here.
With the 2015 Pro Football season about to start, it is important for all of those fans that enjoy the competition that fantasy sports gives them, need to learn from the past, so they can better prepare for the future. 2014 was a great year to gauge for new players, as well as see which players may be worth more this year due to great performances.
Some players may fly under the radar due to some specific stats that don't allow fans to see their great overall performances, and this could hurt you if some other person drafts them. However, there are other players that are hyped to be good, but when you look at their overall performance, they don't really have what it takes. Here are ten stats, that you may or may not know already, about some players that performed well or not.
Players To Consider

Player

POS

Total NEP

Ranking

Eddie Lacy

RB

Reception: 34.56

3rd among RB

Jimmy Graham

TE

Reception Per Target: 0.59

15th among TE

Le'Veon Bell

RB

Total: 82.85

38th in NFL

Dereck Anderson

QB

Passing Per Drop Back: 0.35

1st in NFL

Antonio Brown

WR

Reception: 0.84

Receptions: 112

8th in NFL

1st in NFL

Calvin Johnson

WR

Reception: 0.82

Success Rate: 98.59%

10th in NFL

2nd in NFL

Aaron Rodgers

QB

Total: 214.26

Passing: 188.41

1st in NFL

10th in NFL

Players To Avoid

Andre Ellington

RB

Rushing: -28.34

Worst in NFL

Devonta Freeman

RB

Rushing: -18.80

Success Rate: 24.62%

3rd Worst in NFL

Worst in NFL

Blake Bortles

QB

Passing: -97.97

5th Worst in NFL
You may want to take a risk on the players that seem to have gone under the radar, even when their performance is on par with those star players. In the end, when participating in fantasy football, it is important to get results from each individual player that you draft, as their performance will give you the necessary points to win.