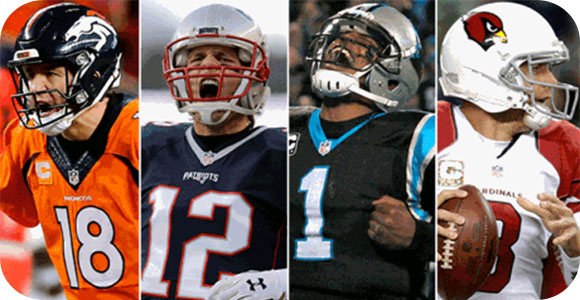 With the upcoming football Conference championship games this weekend, there is plenty of information to help make the best prediction, including the power rankings, as well as getting to know their weaknesses. Each team that has reached this point in the playoffs is thanks to their great performances, whether it is due to their star quarterback or their brick wall of a defense. These franchises are out to win it and reach the Super Bowl, so they will be using everything they have.
1. Carolina Panthers (16-1)
Coming in at #1 are the Carolina Panthers, and there is no doubt why. They have won 21 of 23 games played, and will now be facing the Cardinals for their spot at the Super Bowl.
Weakness: The Cardinals defense has done a great job of blitzing Cam Newton, which has happened on 54% of his dropbacks in three games. This held Newton to only throwing 1 touchdown, getting 4 interceptions and 12 sacks. If they hope to win, they need to give Newton better coverage.
2. Arizona Cardinals (14-3)
A heavy hitter, the Arizona Cardinals rank at #2 with Carson Palmer leading the team. Palmer has used his star WR, Larry Fitzgerald, who has been paramount for their victories, averaging 114 receiving yards and 10 touchdowns in his eight playoffs games.
Weakness: The Panthers know about Fitzgerald, and their defense has been destroying any passing done. They have allowed the lowest total QBR (56.7) on passes to wide receivers during the regular season. Palmer may have to make tougher passes or try to go with the running game.
3. New England Patriots (13-4)
Despite being ranked #3, the New England Patriots are now being favored to win the Super Bowl (+190). Being led by the top quarterback in the league doesn't hurt either, as Tom Brady threw an amazing game against the Chiefs. His go-to men are Rob Gronkowski and Julian Edelman, and they will be dangerous if left unchecked by the Broncos.
Weakness: Brady relies heavily on Gronkowski and Edelman, and when they are both on the field he averages a 79 total QBR rating and a 68% completed passes, but with one or the other off the field, it drop to 50 total QBR and 60% completed passes. If the Broncos work it right, they could make Brady less efficient.
4. Denver Broncos (13-4)
Last on the list are the Denver Broncos, led by laser-rocket-arm Peyton Manning. The Broncos have led the league in total defense, only allowing 18.5 points per game this season. The defense may be more important than the offense during this game.
Weakness: On top of only going 5-11 against Brady, no Manning-led team has scored such few points since 2002. Their offense will need to perform exceedingly well if they hope to outscore the Patriots.