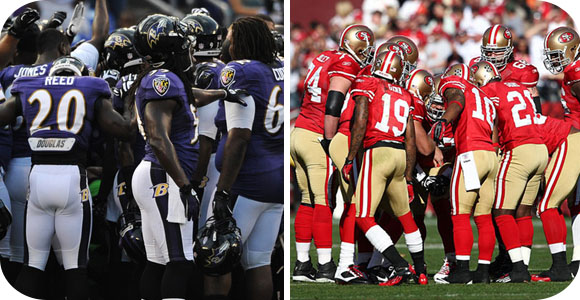 As the NFL Week 5 football games are approaching, there are several teams that would benefit from a few changes to their roster or strategy, as they have been having a horrible season so far. Look at which of the AFC and NFC teams need a boost that could mean the different between a losing and winning record.
Baltimore Ravens (1-3)
Area needing a fix: the Ravens are in desperate need of a good cornerback and wideout, as they have been suffering with the secondary.
Cleveland Browns (1-3)
Area needing a fix: They should start Johnny Manziel, and give defense coordinator Jim O'Neil some help by head coach Mike Pettine, who should be more involved with the talent.
Jacksonville Jaguars (1-3)
Area needing a fix: Start focusing on improving the secondary, as the Jaguars offense is getting its legs back with QB Blake Bortles, returning TE Julius Thomas, WR Allen Robinson, and rookie RB T.J. Yeldon. So their defense, who is ranked 26th should be their main focus.
Houston Texans (1-3)
Area needing a fix: Switch Ryan Mallet and Brian Hoyer each drive to see if that works, or try J.J. Watt in a different spot. Mixing it up may give the Texans a shot at winning a game on purpose.
Kansas City Chiefs (1-3)
Area needing a fix: Give QB Chase Daniel a shot at starting. Their current starter, Alex Smith, may have impressive throwing stats, but has been unable to score a touchdown. Perhaps Daniel will prove to be a better scorer.
Miami Dolphins (1-3)
Area needing a fix: With interim coach Dan Campbell and his new training techniques, it may be good time for the Dolphins to find a a suitable head coach, and this time, pick the right man for the job.
San Francisco 49ers (1-3)
Area needing a fix: Test their young players and see where they could go. With the 49ers having a relatively young team of players, they could see where they major strengths are at without being limited to former identities.
Philadelphia Eagles (1-3)
Area needing a fix: Play Darren Sproles more often! He is second on the team in terms of yards per carry, receptions, and average yards, yet he hasn't been given much playing time. They should use this asset to the best of his abilities and start getting the ball safely down the field.
Detroit Lions (0-4)
Area needing a fix: Matt Stafford needs more balls, figuratively and literally. He has four amazing wide receivers and running back including, Calvin Johnson, Golden Tate, and Ameer Abdullah, they should be taking more chances on the throw.
Chicago Bears (1-3)
Area needing a fix: Pick another quarterback now, rather than wait and see in the next Draft. There are plenty of experienced QB's out there, like Geno Smith, Ryan Nassib, or EJ Manuel, and put them to work on the offense. If they are worried about Jay Cutler, they shouldn't be, a quarterback that doesn't perform should be on the bench.
Tampa Bay Buccaneers (1-3)
Area needing a fix: Start Jameis Winston slower. The rookie quarterback has been throwing like crazy, with 30 to 35 attempts each game, which is what has led to his 7 interceptions. The Bucs should take it slower with him as he gains experience and he will surely repay them in the next season.
New Orleans Saints (1-3)
Area needing a fix: Think about the long run. With their star QB, Drew Brees reaching 37, they need to start looking at what lies ahead. They may need to completely overhaul the team and start looking to change its strategy, as it may no longer revolve around Brees and Sean Payton.
With these changes, we may see a different NFL team this season or the next, but we will have to wait and see if any of them actually do something to help them improve. The football season is only just begun, with 12 weeks to go until the playoffs, so it is still early to tell.