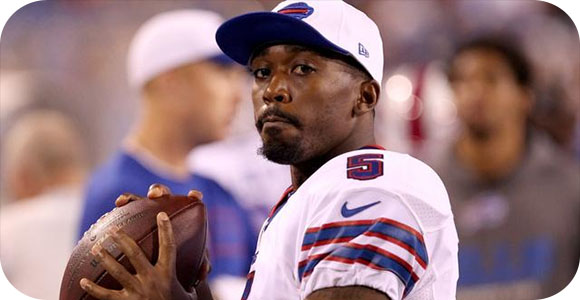 With the NFL Week 6 football games coming up, there are a few teams that need to re-evaluate their roster and starting players, as they try to replace injured players and hope that they are as good. When a key player gets injured, each team has to try and fill the hole left behind either by trying pick equally talented players or changing their overall game strategy to account for the loss. Some of these teams, and their injured players include:
Kansas City Chiefs: Jamaal Charles (torn right knee ACL)
Dallas Cowboys: Tony Romo (shoulder), replaced by Brandon Weeden (performing well, not winning games)
Buffalo Bills: Tyrod Taylor (MCL)
Each of these teams needs help on the field, which is why they have not been performing their best during the start of the season. With the injury of their starters, they are left with the replacements that could or could not perform; like the Cowboys with Brandon Weeden who replaced injured Tony Romo. By just looking at the stats, Weeden did an ok job, but he was unable to lead the usually explosive offense, being unable to score and win games.
Chiefs Ground Game Change
The Chiefs are without their star running back, so coach Andy Reid has decided to change up their offensive strategy, as there is no way to replace Charles. So, instead of putting the pressure on just one player, he decided to center the ground game on a committee approach. He will have Spencer Ware directly replacing Charles, while also having Knile Davis and Charcandrick West being as a one-two punch and will start against the Minnesota Vikings on Sunday. This is a great strategy to lower the risk of one player not performing well.
Cowboys Quarterback Trouble
The Cowboys have a great offense, but without a proper leader they are left losing games, with their latest a disaster; New England Patriots beating them 30-6. Without Romo, Weeden stepped up, but was unable to score despite his above-average performance. With the third setback, they have decided to switch out Weeden for Matt Cassel in Week 7, after they come back from their Bye. This will give them time to get Cassel up to speed and in-sync with the offense. Will this quarterback have another breakout season?
Bills Will-He-Won't-He
It is still unknown if Tyrod Taylor is going to start this week against the Cincinnati Bengals, as he suffered an MCL injury last week. He is being re-evaluated to see if he will play or not, but coach Rex Ryan is stating, "I would not rule out Tyrod Taylor as starting this week. Although I know it's widely reported that that's the case. We will see, that's a possibility. I certainly wouldn't count Tyrod Taylor out. He did finish the game this past week. I can tell you this: He's got heart, he's got toughness and he's got a lot of ability. I definitely would not rule him out." So, we may or may not see EJ Manuel start this week as Taylor recovers.
It will be a tough few weeks for these three teams, as two of them are trying to get a winning record after a slow start to the football season.