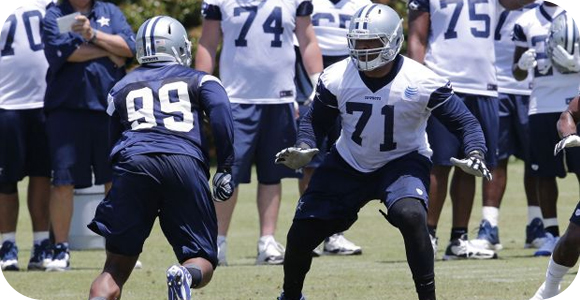 During Week 2 of the pre-season we are seeing some great players show their football skills, which fans should be aware of and looking for them on the field, not only during this weeks games, but for the rest of the season. These will be game-changers, as they are proving to great on offense or defense.
Here are some of these great players to look for:
OL La'el Collins, Dallas Cowboys
CB Quinten Rollins, Green Bay Packers
WR Greg Salas, Detroit Lions
RB Josh Robinson, Indianapolis Colts
S Ed Reynolds, Philadelphia Eagles
LB Frank Clark, Seattle Seahawks
WR Tyler Lockett, Seattle Seahawks
QB Brock Osweiler, Denver Broncos
DT Carl Davis, Baltimore Ravens
RB Ameer Abdullah, Detroit Lions
Each one of these players, whether they are rookies or veterans, have been showing amazing progress throughout the training camps this year. Some will get plenty of game time this season, while others will have to fine tune their talent while being on the second team, ready to play at any time.
During the next week of football games, see if the coaches put them in, and pay close attention to how they perform. Pre-season games are perfect for getting real-life on-field experience and practice, as the points don't really matter anyways.