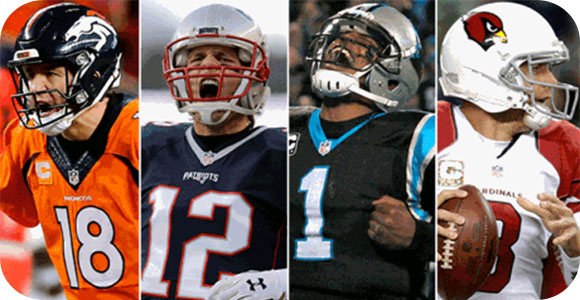 With the upcoming football Conference championship games this weekend, there is plenty of information to help make the best prediction, including the power rankings, as well as getting to know their weaknesses. Each team that has reached this point in the playoffs is thanks to their great performances, whether it is due to their star quarterback or their brick wall of a defense. These franchises are out to win it and reach the Super Bowl, so they will be using everything they have.
1. Carolina Panthers (16-1)
Coming in at #1 are the Carolina Panthers, and there is no doubt why. They have won 21 of 23 games played, and will now be facing the Cardinals for their spot at the Super Bowl.
Weakness: The Cardinals defense has done a great job of blitzing Cam Newton, which has happened on 54% of his dropbacks in three games. This held Newton to only throwing 1 touchdown, getting 4 interceptions and 12 sacks. If they hope to win, they need to give Newton better coverage.
2. Arizona Cardinals (14-3)
A heavy hitter, the Arizona Cardinals rank at #2 with Carson Palmer leading the team. Palmer has used his star WR, Larry Fitzgerald, who has been paramount for their victories, averaging 114 receiving yards and 10 touchdowns in his eight playoffs games.
Weakness: The Panthers know about Fitzgerald, and their defense has been destroying any passing done. They have allowed the lowest total QBR (56.7) on passes to wide receivers during the regular season. Palmer may have to make tougher passes or try to go with the running game.
3. New England Patriots (13-4)
Despite being ranked #3, the New England Patriots are now being favored to win the Super Bowl (+190). Being led by the top quarterback in the league doesn't hurt either, as Tom Brady threw an amazing game against the Chiefs. His go-to men are Rob Gronkowski and Julian Edelman, and they will be dangerous if left unchecked by the Broncos.
Weakness: Brady relies heavily on Gronkowski and Edelman, and when they are both on the field he averages a 79 total QBR rating and a 68% completed passes, but with one or the other off the field, it drop to 50 total QBR and 60% completed passes. If the Broncos work it right, they could make Brady less efficient.
4. Denver Broncos (13-4)
Last on the list are the Denver Broncos, led by laser-rocket-arm Peyton Manning. The Broncos have led the league in total defense, only allowing 18.5 points per game this season. The defense may be more important than the offense during this game.
Weakness: On top of only going 5-11 against Brady, no Manning-led team has scored such few points since 2002. Their offense will need to perform exceedingly well if they hope to outscore the Patriots.

As we move into the football Divisional playoff round, leaving only eight teams as they will compete for the four spots in the Conference championships, and possibly get to the Super Bowl. With everything that comes with single elimination playoffs, this will be a tough one to predict. For those looking to bet on the matches, there are a few historic trends when it comes to these playoffs:
The last ten Wild Card teams to win in the first round of the playoffs went 4-6 straight-up and 7-2-1 against-the-spread in the Divisional Round.
The last ten No. 1 seeds in the NFL Playoffs have gone 6-4 straight-up and 2-7-1 against-the-spread in the Divisional Round.
All-time in the playoffs, teams that won by three touchdowns or more and then are underdogs the next game went 15-27 straight-up and 16-26 against-the-spread.
The last ten favorites of a touchdown or greater in the Divisional Round went 7-3 straight-up but 3-6-1 against-the-spread.
This means that most of the games played this weekend fall under one or more of those trends, so handicapping could be focused on what the historical data has shown, although it doesn't always mean that it will be accurate. It also depends on the odds given to each match-up:
| | | |
| --- | --- | --- |
| Match | Spread | Totals |
| Chiefs at Patriots | Patriots (-4) | 43 |
| Packers at Cardinals | Cardinals (-7) | 49 |
| Seahawks at Panthers | Panthers (-1) | 44 |
| Steelers at Broncos | Broncos (-7.5) | 38.5 |
The odds have been shifting since the start of the week, as the Panthers started with a (-3) spread, and the Patriots had a (-5.5) spread, so it looks like the sportsbooks are starting to see exactly where people are betting, and it seems the underdogs for those two games are being heavily bet on. The Patriots have an injured team going against the Chiefs, who have won 11 consecutive games and scored 30-0 last week. The Seahawks and Panthers are evenly matched, which is why their odds are so close; as they have the top defenses in the league it is no surprise that the Over/Under would be low.
It will be a great weekend of football, as the competition get fiercer and the prize is just that much bigger. Be sure to know your stats and other handicapping information, or it could bite you in the ass when the whistle blows.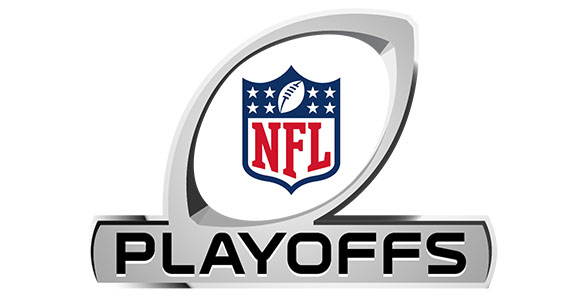 As we move into the playoffs, a good way to handicap the first round of games is to see how each football team is ranked, based on their regular season performance as a guide. There are twelve teams in total, with four teams getting a bye during the first week which include: Carolina Panthers, Arizona Cardinals, Denver Broncos and New England Patriots as they were in first place in their division. They will be ranked, but as they do not play during the first week, you can choose to exclude them.
| | | |
| --- | --- | --- |
| Rank | Team | Record |
| 1 | Carolina Panthers | 15-1 |
| 2 | Arizona Cardinals | 13-3 |
| 3 | New England Patriots | 12-4 |
| 4 | Denver Broncos | 12-4 |
| 5 | Seattle Seahawks | 10-6 |
| 6 | Kansas City Chiefs | 11-5 |
| 7 | Pittsburgh Steelers | 10-6 |
| 8 | Cincinnati Bengals | 12-4 |
| 9 | Minnesota Vikings | 11-5 |
| 10 | Green Bay Packers | 10-6 |
| 11 | Washington Redskins | 9-7 |
| 12 | Houston Texans | 9-7 |
Despite being ranked #12, the Texans, along with J.J. Watt have certainly proved themselves worthy of being in the playoffs, as have the Redskins who hadn't been since 2012. We could see a lot of upsets the first and second week of games, as nothing is certain and single-elimination gives everyone the chance to move up. The game schedule is:
| | | |
| --- | --- | --- |
| Away | Home | Time/Day |
| Kansas City Chiefs | Houston Texans | 4:35 pm / Saturday Jan. 9 |
| Pittsburgh Steelers | Cincinnati Bengals | 8:15 pm / Saturday Jan. 9 |
| Seattle Seahawks | Minnesota Vikings | 1:05 pm / Sunday Jan. 10 |
| Green Bay Packers | Washington Redskins | 4:40 pm / Sunday Jan. 10 |
We have some evenly matched games, while other will have tougher opponents in terms of rankings. Although, overall, the teams are well balanced for the first week. There are top defensive teams playing each other, as well as top offensive teams playing each other, so in the end, whichever team can get the slight advantage will have their first playoff win. It will be quick football matches, so watch out for the top performers.